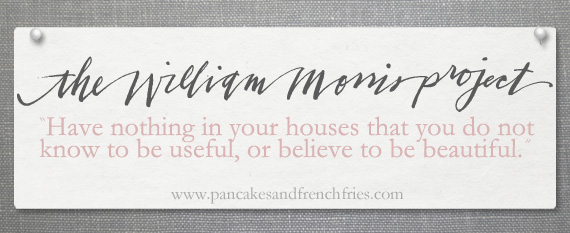 This is a Sunday Synopsis for the projects I completed in the fourth week of the 31-day William Morris Project Challenge.
This week seemed to be the week with the highest return of emotional investment. Every project I finished made me feel great! So many of the projects I've done this month won't even be noticeable to any company that visits but it's making me feel more at home. We had rented for so many years (from landlords that preferred we NOT put nail holes in walls) prior to buying this house that it took us a few years to realize we now could!
Now, to show you all what was accomplished these last seven days:
Day 21: Install shelf for modem & router
| | |
| --- | --- |
| Before | After |
I entered Max's room with the intention of hanging a shelf and ended up clearing a corner and finding another project in the process. The modem and router used to sit on the pantry shelf. At some point, they apparently got moved to sit on the white cube shelves that hadn't gotten rehung after we moved. I also found a binder which will work nicely for the bills in the cabinet.
I would like to eventually do something to nice-up the cables that are now hanging in the corner but just getting the modem & router up off the floor made that corner seem more open.
Day 22: Hang white cube shelves
| | |
| --- | --- |
| Before | After |
I figured since I "found" the white cube shelves, I should go ahead and hang them! We haven't decided yet what to keep on the shelves yet. I'm thinking some 3x5 framed pictures and a few bud vases would be nice. Charlie figured out that he can tip over a flower vase and get an instant babbling brook of water - so we haven't had fresh flowers in a long time. These shelves are high enough up that he can't reach so stemmed buds just might start showing up again!
Day 23: Install shelving in hallway closet
| | |
| --- | --- |
| Before | After |
The shelves are useful. They aren't pretty - they aren't perfect - and they aren't all that impressive. I used scraps from when I built the deck chairs over the summer. I used any screws I could find that were long enough and used finishing nails on the ends that didn't hit studs to help anchor them in.
We moved the media rack out of the living room when we rearranged the living room. I thought it would fit in the hallway closet but it wouldn't. So the tower got moved to Max's room until I could figure out what to do with all the media that was on it. The cds, dvds and vhs tapes are now accessible but not an eyesore. Bonus: Due to their size, I could put the shelves in the little nook of the closet which left plenty of space for things like toilet paper or brooms.
Day 24: Purge & organize bedroom closet
| | |
| --- | --- |
| Before | Before |
| After | After |
Shoes in the hanging shoe caddy, shoes piled on the floor, and (not pictured) shoes around the house. Just a reminder - only two people live in this house. The purple tote on the floor had socks upon socks. There were even 3 pairs of Halloween socks that had never been opened. Talk about perfect timing!
We agreed that we need at least one more of the plastic Sterilite bins. The purple tote is mostly empty and its contents will fit perfectly in another bin.
The Huggies box has hot wheels tracks waiting on a gift holiday for one of the nephews. I stacked the two shoe boxes with the Huggies box to use for wrapping gifts this Christmas.
Sweetie helped with the sorting and purging of socks and some more clothing. She slimmed down 7 pairs of shoes and I slimmed down 2 pairs. I found the perfect use for the empty media rack! We moved the dress clothes and the hanging shoe caddy into the closet in Max's room. The hanging caddy will hold only shoes worn with the dress clothes. We are able to store almost every pair of casual shoes on the rack and there is more than enough space in the hanging caddy for the dress shoes.
Repurposed media shelf as shoe rack
Day 25: Purge and organize closet in
cat room
| | |
| --- | --- |
| Before | Before |
| After | After |
Once I moved what needed moved and tossed what needed tossed, this closet was
empty
except for the carry-on suitcase.
Funeral price list from 1995
I also found this funeral price list from 1995 on the top shelf. It was obviously left by the previous owner and we just didn't catch it. Since we hadn't intended to use this closet for anything besides cat stuff, I hadn't done a thorough clean of it when we moved in.
Day 26: Purge and organize closet in Max's room
| | |
| --- | --- |
| Before | Before |
| After | After |
The black bags are polyfill. They got moved to the no-longer-empty closet in the cat's room since that room is where Sweetie's sewing headquarters will be once I get the table and storage built. The folding chairs also got moved into the other closet just because they are rarely used and because that room is where the folding table is.
Yet another project - copy VHS to DVD
Once again, I found something that created another project. This bag of VHS tapes needs to be converted to digital format and burned to DVD. I have the cable that hooks the computer to the VCR but I don't have video capture software. Hopefully, the someone whose gift this conversion is for isn't reading this post. Or if they are, the pretend they didn't see it so they can be surprised at Christmas instead of irritated that I stole their tapes, LOL
Day 27: Purge dresser
| | |
| --- | --- |
| All that remained of "lounge-wear" after the purge | Lightweight sweaters are looking a bit sparse |
There wasn't much to do in the dresser. I got rid of some lightweight sweaters and one turtleneck. I got rid of all but one pair of lounging pants. I typically only need them when I'm sick or when we have company so I don't foresee doing any shopping to replenish that stock. The lightweight sweaters though, I need to make a trip to Goodwill soon. Winter is quickly on its way!
I'm hoping to get the next four projects done before Wednesday so that I can have the post up and ready on the last day.
Only 4 days to go!