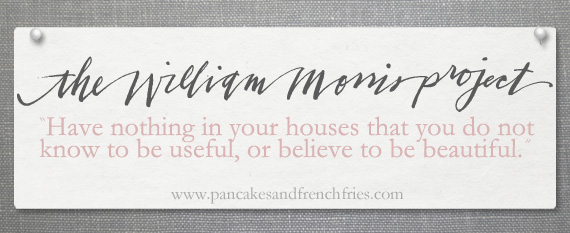 This is a Sunday Synopsis for the projects I have completed in the second week of the 31-day William Morris Project Challenge.
This week I've noticed I am sometimes only partially organizing. This is mostly because I don't have very many defined spaces yet so I just don't know what to do with some things. Jules has
reiterated
over the course of this year's 31-day challenge that the William Morris Project is definitely an ongoing thing. I can see how some parts of these places I'm purging and organizing will be easier to sort out once I have defined and organized spaces. Right now, everything is so overwhelming I'm giving myself a pat on the back just for doing anything at all!
Well, on to the summary of what I accomplished these last seven days:
Day 7: Move manuals from kitchen drawer to a binder
| | |
| --- | --- |
| Before | After |
Eventually this drawer will get even more organized. I'd like to get a containers for the molds & the cutters. This drawer should probably be revisited at some point (maybe next year) because there are some odds & ends behind what's visible. It's mostly replacement parts for things around the house that were left by the previous owner. I don't want to lose them but they don't really belong in this drawer either.
Day 8: Purge and organize piano in Max's Room
Before




After
What looks like a pair of jeans on the bench is actually
the ukulele case I made which also holds some ukulele chords & songs
There are a few places in our house that I am embarrassed for company to see. This is one of them. The piano and other instruments live in the catch-all room. Our dog Max sleeps in here, we store off-season clothes in here, there's a shelving unit which holds pantry items, a household maintenance basket, a sewing supplies tote, and fabric bundles. There is a corner (not in view of these pictures) which is quite the eyesore. This room is always closed off when people come over. It is not child-proof and it's in such disarray that it makes me feel like a slob. I become overwhelmed whenever I enter so I decided to break the room into little subsections. I started with the piano, which obviously doesn't get used.
The bench is stuffed to the brim with music and piano lesson books, most of which could be given away to someone at a more beginner level. I need to talk with my sister to see if she still thinks she'll want the piano when she finds a house. Her son would be able to use the beginner books if she ends up taking the piano back.
I had originally thought I wanted the top cleared off completely, but in the end I decided I liked the idea of all the instruments in a group. Everything but the art basket will get moved once I get shelving up on the wall. The art basket might also eventually move to a different location but for now this is where it makes sense to be.
Day 9: Purge and organize the linen closet.
| | |
| --- | --- |
| Before | After |
Groups
(and Charlie getting ready to inspect the empty shelves!)

Stuff to give away


| | |
| --- | --- |
| Before | After |
This task took
much
more time than I expected it to. I was overwhelmed every step if the way but kept at it and finally, after 3 hours, it was finally finished!
We don't have cabinet space in the bathroom so the closet has a lot going on. What I decided to do was group like items together. The medicines took the longest. Most of the pill packets had long since lost their accompanying package so Sweetie was googling ingredients and I was labeling baggies. All pill-form medicines we were getting rid of got tossed in a big baggie. I will take that to work with me and put spent coffee grounds in with them before tossing in the trash.
Day 10: Purge and organize shelving unit in Max's Room.
| | |
| --- | --- |
| Gash from box cutter | My first rosary |
Purging the tool box was more dangerous than it needed to be! Actually, that gash had little to do with the actual purging process. I came across a cordless drill charging base which had a split cord. I decided I would try to mend it up by matching the wires and wrapping in electrical tape. There was a box cutter in the bin so I used that to cut the electrical tape. On the final tape cut, I cut my finger which I hadn't realized was hiding behind the strip I was cutting. The sad ending to that story is that the charging base still didn't work, so my cord mending efforts proved futile.
After I finished going through the upstairs maintenance bin, I started on my hobby bin. Within the contents, I found my first rosary! I have no idea how it ended up in there, or how I managed to keep it as long as I have. I put it back in the same box I found it in even though it doesn't really fit in that box's purpose. I figured it had lasted this long that way, why mess with a good thing?
| | |
| --- | --- |
| Before | After |
| My hobby bin | Upstairs maintenance bin |
Sweetie said, "I won't touch your hobby bin. You don't touch my sewing shelf." Fair enough, she's done a pretty good job of keeping it organized anyway so there wasn't anything I could have done there anyway. The upstairs maintenance bin theoretically holds tools we use often for maintenance type projects in the living areas. The majority of tools are kept in the garage or in the basement. Inevitably though, we bring up a tool from the basement that we need for some random rare project and it ends up in the bin because we don't want to take it back downstairs. This bin and the top shelf (pantry items) will need to be monitored on a regular basis. I should probably add it to a quarterly list or something. I probably won't, but I should.
There are only two more corners and a closet to tend to in this room!
Day 11, 12, & 13: The garage - dun dun duuuuun!
| | |
| --- | --- |
| Before (sun shining!) | After (night has set in) |
Well, I'd been waiting for a weekend when we weren't busy, the temps were warm and the sun was shining. Sunday was all of that. I got home from church around 2 and all I wanted was a nap. Unfortunately, I took that nap. I didn't start on the garage until about 4:30p. The sun sets around 7p now. I was rushing around 7:30 to get everything back into the garage before it was too dark to see well. There is a sizeable pile of crap on the driveway which we will get removed tomorrow. If we have to pay to get it hauled off, we may as well get some more stuff out there from the basement!
| | |
| --- | --- |
| Inner wall - Before | Inner wall - After |
If I had broken the garage into three separate tasks as I had planned, this might not have been so overwhelming. In hindsight, I'm not sure it would have worked out as well done in sections anyway so it all panned out for the best.
The inner wall is mostly cabinet space. There was a hay bale which I moved to the shed. There were home tools, gardening tools, empty containers, and carpet remnants. This was by far the dirtiest side because of the carpet, hay, and potting soil. I organized the inside of the cabinets while I was at it but I didn't photograph their progress. They weren't too terrible to begin with.
| | |
| --- | --- |
| Outer wall - before | Outer wall - after |
| Outer wall - before | Outer wall - after |
The three cubby towers along the outer wall were there when we moved in. They were so handy at holding random tools as we were getting the place up to snuff that we left them. Now we've gotten to the point where most of the tools we need to use around the living quarters can fit in the basket in Max's room. I decided to purge the cubbies of their contents and move the towers downstairs to help organize the unfinished side. When I moved them away from the wall though, I found extensive water damage and they were constructed of pressboard so out to the driveway they went! I kept the shortest one which had the least amount of damage and still proved useful.
We're so excited that one of us will be able to park in the garage if necessary this winter! I'm looking forward to being able to clean out my car even if we're experiencing crappy weather (which for some reason is
always
when I want to tackle that issue!)
Thirteen days down. Eighteen to go!