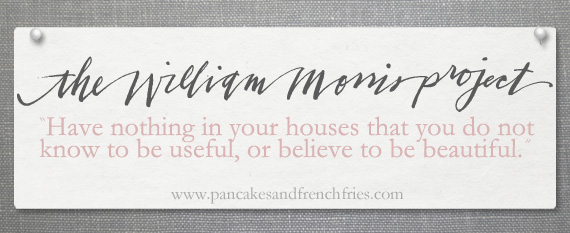 This is a Sunday Synopsis for the projects I have completed in the third week of the 31-day William Morris Project Challenge.
This week I re-learned something about Sweetie ... she does NOT like change. She is very appreciative of me purging and straightening, but has expressed on more than one occasion in the last seven days that she could easily do without my "organizing". Even in chaos and disarray, she knows where things live. So do I, but it doesn't mean I enjoy them living there. Ask me where the nail clippers are and I'll tell you that they are next to the ceramic bowl on the credenza (even though it makes sense that they live in the bathroom). I also used to know that the printer paper and envelopes would be in the bottom cabinet of the china hutch, under the box of electronics. Did it make sense to be there? No, not really. But we both knew it was there so why move it? Well, because I'm organizing, that's why. *smirk*
This month, I've changed my mindset from "why mess with what works?" to "could this work better another way?" Sweetie is not impressed.
We made some compromises and came to some agreements. Sometimes it's very difficult for two people that are vastly different to find a common ground to live peacefully. It's somewhat humorous to me that after 11 years we still butt heads over stuff because we each live in our own worlds of what we feel is acceptable and forget that the other person is the complete opposite. It gives us plenty of practice for compassionate listening, patience, and compromise.
Well, on to the summary of what was accomplished these last seven days:
Day 14: Purge & organize junk drawer in china hutch
| | |
| --- | --- |
| Before | After |
Crafts, electronics, cables, empty boxes, and office supplies. This drawer had it all and more. Most of what it had didn't need to be there. Most of it could be thrown away or moved elsewhere. Look at the "after" picture - see that basket in the top left? There are about 20 seed packets in there. I had no idea they even existed. Now they are in a basket and visible for when I start planting next season. Batteries are in a basket with the flashlights - front and center - and obvious. I actually re-took the "after" picture because when I purged the lower cabinets on Day 15, I moved the the greeting cards, envelopes, paper, and labels to the top.
Day 15: Purge and organize lower cabinets in china hutch
| | |
| --- | --- |
| Before | After |
The cooler bag belonged to my parents. The yogurt containers got moved to the "party" drawer for when the kids need snack cups or craft cups. The Adidas shoe box held all the electronic stuff and that was transferred to the clear container I picked up at the dollar store. The "Cell Phone" box got tossed. I had gotten rid of its contents during the electronics recycling purge and we no longer need it. The huge empty space on the left will be used for my "bill bag" - which will eventually be converted to a "bill box" when I can purchase a tote of some sort that will hold the contents securely. The top shelf is empty for now but there are enough spots left in the house that it will likely hold something by the end of the month!
Day 16: Purge summer clothes
| | |
| --- | --- |
| All from summer closet | All to donate from summer closet |
We have so many T-shirts! The honest truth is that we wear them. I wear them under my button-ups on chillier days and they are our go-to for non-job wear. I still had a few large T-shirts from when I wore that size last year. Jules recently had a great take on holding
out-sized clothing
:
"If I kept the small sweaters when I was too big, did I have to keep the large sweaters when I was too small? It seemed that no matter my weight, keeping clothing that didn't represent my current size celebrated a failure from the past or yet to come."

It's really hard for me to separate with some of the shirts I've held on to. I gave away quite a few of the large shirts from last year when some friends lost theirs in a fire. The few I kept were designs that I really liked. Then there's that nagging voice reminding me that I consistently thumb past those cool designs because they hang off of me sloppily now. I won't wear them. Finally I came to the conclusion that if Sweetie didn't want them for herself, I got rid of them.
Day 17: Purge winter clothes
| | |
| --- | --- |
| All from winter closet | All to donate from winter closet |
We have half the amount of winter clothes as we had summer clothes. We need to go shopping at a consignment store or Goodwill and restock. We've both gone down sizes since last winter and we don't share the same sense of style so hand-me-downs are a no-go. We both only have a few nice shirts that fit. We both have about 5 long-sleeved T-shirts. The rest are all sweaters which are really only suitable for the very cold days.
Day 18: Purge and relocate "bill bag"
| | |
| --- | --- |
| "Bill Bag" in dining room corner | "Bill Bag" thinned out and relocated |
I keep our bills and important receipts in one of those reusable fabric bags that we got at at some event for free. I started out using a large manilla envelope for each month in the year but that got messy really fast, and it didn't really make much sense when I was trying to compare utility bills across months. Then I used a 3-ring binder filled with empty page protectors. I filled the page protectors with like-bills (water, lights, house repairs, car maintenance & repairs, etc). In the advent of online statements and bill retrievals, I have stopped saving most bills past a few months old. I often forget to purge out the old ones until I have a reason to look for something so the "new" bills & receipts would pile up around the binder. The bag was a good option at the time of containing the mess that I inevitably created over and over again. I don't suspect the problem of keeping it purged every month is going to get solved any time soon. However, eventually the "Bill Bag" will have a more permanent and secure holding place, like a plastic file tote or multiple 3-ring binders with page protectors. Maybe I could have a tray for the stuff that needs to go into the binder/box in addition to the file system. That will be another project for another time.
Day 19: Planted garlic
| | |
| --- | --- |
| Sweetie digging in | Sweetie planting one of the elephant garlic cloves |
Sweetie felt motivated to plant the garlic which I'd been putting off since mid-September. She had also recently found a bulb of elephant garlic at the local organic store so we're going to plant some of that this season - which is pretty exciting! When she was finished, we had 28 cloves planted - 4 of which were elephant variety. We use about 2 bulbs a month so if they all produce (last year we lost 2) we should be able to get through a year without buying garlic!
ONE clove from an elephant garlic bulb
Day 20: Cleaned out gutters and downspouts
| | |
| --- | --- |
| Before | After |
Our yard has a LOT of trees. It was one of my "must have" features when we were looking at houses. It did not occur to me how much work trees created in the fall - but even now that I've learned this lesson, I'd still want all the trees. They're just so beautiful!
I clear the gutters of leaves 2-3 times a year. Once when they've started falling. Another before winter if I can get up there before it's not safe to. And a final time in spring to clear the whirlygigs and such.
Climbing ladders (up or down) terrifies me. If there was a tree close enough, I'd much rather climb through the branches and hop onto the roof. It's not heights that I'm scared of, just the ladder. It's not a fear I can explain, but it's there and it's real. Sweetie holds the ladder for me and I'm sure she can attest to the wobbling I create. Once I'm up there though, I'm good. I know quite a few people that clean their gutters by standing on the ladder and climbing up & down, moving along the house that way. I couldn't imagine it. I am much more comfortable sitting on the roof, thank you very much.
| | |
| --- | --- |
| It's a long way down! | Me getting the leaves out |
| | |
| --- | --- |
| Sweetie waiting for the end of the hose I'm feeding through | The "birds-eye" view always amazes me! |
Beautiful fall trees - from above
More beautiful fall trees - from above
I slacked this week. It's evident but I'm okay with it. There is plenty to do and plenty of time to get it done. There are not many October days left but there are plenty more days after that. Winter will be here soon and I'm sure I'll get cabin fever at some point, which is when I will get the motivation to do some of those projects that we never have the motivation to start.
Twenty days down. Eleven to go!